Purple Tropical Double lane Waterslide 25ft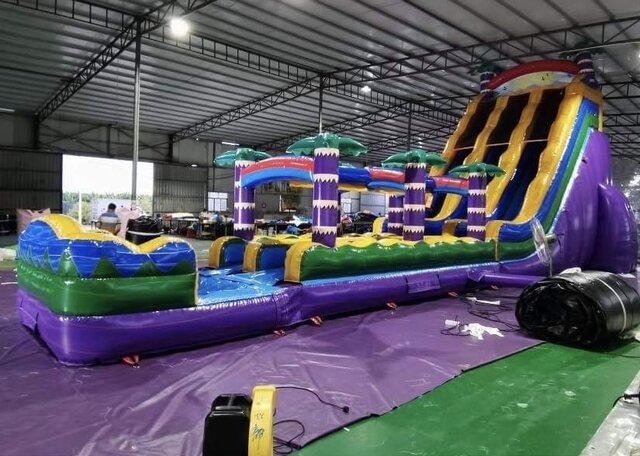 Available Booking Options
Up to 6 Hours

Displayed Price

7-10 Hours

+15%

Overnight
(Picked up after 7:30am)

+30%

Weekend Special
(Fri before 7pm - Sun after 3pm)

BEST DEAL

+50%
Description
Purple Tropical Double lane Waterslide 25ft
This gorgeous giant water slide with the extenstion lanes with pool at the end of it. Is a new 2022 waterslide with the stylish purple, green, blue along with tropical trees which stands out from the crowd with it's unique look. The customers ask for the long waterslides with big height and we bring it. Our company stands out from others due to always bringing the customers the best quality waterslides and equipment. We gladly bring the best products to the competition in our surrounding areas.

A 25ft double lane tropical waterslide is an inflatable waterslide that is typically used for outdoor summer events, such as backyard parties, community events, and festivals. It features two separate lanes for multiple people to slide down racing to get to the pool first, and a tropical-themed design that includes palm trees, and other jungle-like graphics. The waterslide provides a fun and refreshing activity for both kids and adults.
Adults and Kids can slide down this slide
starting at 7 and up!!
This waterslide is one of the hottest waterslides on the market and we take pride providing customers with the best products.