4350 model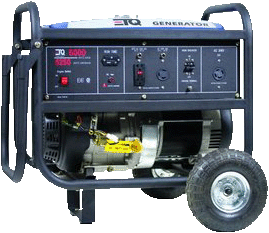 Available Booking Options
Up to 6 Hours

Displayed Price

7-10 Hours

+15%

Overnight
(Picked up after 7:30am)

+30%

Weekend Special
(Fri before 7pm - Sun after 3pm)

BEST DEAL

+50%
Description
4350 Generator model
The Generator 4350 model is a reliable and powerful generator that is perfect for both home and outdoor use. With a maximum output of 4350 watts, this generator is capable of powering multiple appliances and tools simultaneously. Its 4-stroke OHV engine ensures efficient and reliable performance, while the 4-gallon fuel tank provides up to 12 hours of continuous operation at 50% load.
The Generator 4350 model features a convenient electric start, making it easy to start up and get to work quickly. It also has a variety of outlets, including two 120V AC outlets, one 120V twist-lock outlet, and one RV outlet, to accommodate a range of devices and appliances.
Equipped with a durable steel frame and never-flat wheels, this generator is built to withstand tough conditions and is easy to transport. It also has a low oil shutdown feature, which automatically shuts off the engine when the oil level is low, preventing damage and extending the life of the generator.
Overall, the Generator 4350 model is a reliable and efficient power source that is suitable for a variety of applications, from powering essential appliances during a power outage to running tools and equipment on a job site.